Tom Jones and Mary Wilson
Who's Dated Who? profile for Tom Jones and Mary Wilson.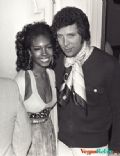 Date Dating:

1967

Date Separated:

1969

Relationship Type:

Relationship

Relationship Status:

Separated
Couple Profile
Tom met Mary Wilson of The ­Supremes in her dressing room in 1967 and she later wrote: "By the time the evening ended I knew I was in love."

The relationship lasted two years... until Linda could ignore it no longer and her no-nonsense ­response brought it to a swift end.

On discovering Tom and Mary had set up a love-nest in Bournemouth, she told him in no uncertain terms: "Get that cow out of there." She also demanded of Tom's publicist: "How do I get to Bournemouth? I'm going to kill her."

Tom Jones

Gemini

Mary Wilson

Pisces
Tom Jones and Mary Wilson fans also viewed:
No records found. Please
register
if you would like to add this information.
Discover more about Tom Jones and Mary Wilson: