LL Cool J and Simone Johnson
Who's Dated Who? profile for LL Cool J and Simone Johnson.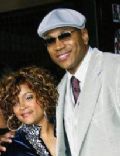 Relationship Type:

Married

Relationship Status:

Married

Date Dating:

1988

Date Married:

7 August 1995

Relationship Source:

imdb.com
Couple Profile
(7 August 1995 - present) (4 children)

He married Simone I. Johnson, on August 9, 1995 at his home in Long Island, New York. The couple have four children: son Najee Laurent Todd Eugene Smith (born September 18, 1989) and daughters Italia Anita Maria Smith (born January 3, 1991), Samaria Leah Wisdom Smith (born September 15, 1995) and Nina Simone Smith (born 2001).

Separated from girlfriend Simone Johnson sometime after the birth of their second child.
LL Cool J

Capricorn
LL Cool J and Simone Johnson fans also viewed:
Discover more about LL Cool J and Simone Johnson: